WELCOME
Welcome to The Atlantic Coast Cluster that is made up of five parishes and six churches on the north coast of Cornwall.
For more information on each church please click on the one you are interested in.
Parish: St Agnes Church: St Agnes
Parish: Crantock. Church: St Carantoc
Parish: Cubert. Church: St Cubert
Parish: Mount Hawke with Mithian. Church: St John the Baptist
Parish: Perranzabuloe Churches: St Piran's and St Michael's
Our website is being updated so please bear with us as we work through this in the next few weeks.
November 2023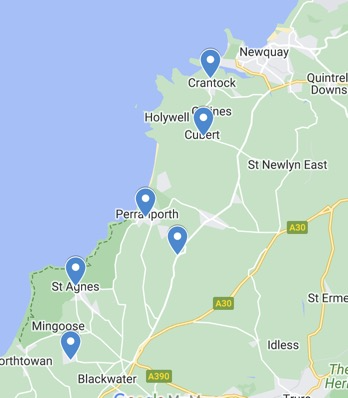 Sunday 3rd December
9:30 am
-
St Cubert-Holy Communion
9:30 am
-
St Agnes-Service of the Word
11:00 am
-
St John the Baptist-Holy Communion
4:00 pm
-
Christingle at St Piran
6:00 pm
-
Advent Carol Service at St Piran's
7:00 pm
-
Advent Carols at St Agnes
Sunday 10th December
9:30 am
-
St Agnes-Holy Communion
9:30 am
-
St Michael-Holy Communion
11:00 am
-
St Carantoc-Holy Communion
4:00 pm
-
Evensong at St Piran
But the day of the Lord will come like a thief. The heavens will disappear with a roar; the elements will be destroyed by fire, and the earth and everything done in it will be laid bare. Since everything will be destroyed in this way, what kind of people ought you to be? You ought to live holy and godly lives
2 Peter 3:10-11
30/11/2023