Welcome to the Atlantic Coast Cluster web site
All Our Churches are open daily for Private Prayer during the following hours:-
St Michael's (Currently closed for major structural work), St Carantoc, St Agnes, St John the Baptist and St Cubert 10.00am to 4.00pm
St Piran's 11.00am to 3.00pm

The Churchwardens are working hard to ensure that the churches will be safe places for people to visit.
Services are available in our Churches every Sunday details can be found on the Calendar of this Web Site or on the Homepage
From the Times - Ways to Improve your Mood
A 3 minute meditation
Singing out loud or joining a virtual choir
A kitchen disco - 35 minutes of dancing
Drawing for 45 minutes
Take a hot bath - May be more beneficial than exercise for people with depression
Gardening - 20 minutes of gardening can reduce stress and boost cognitive function
Deep sleep - 7 hours at least 3 times a week
A 20 second hug - if you're lucky enough to live with someone or some creature that can provide it.
One to one phone calls. (Happier people have more meaningful conversations with much less small talk)
+-+-+-+-+-+-+-+-++-+-+-+-+-+-+-+-++-+-+-+-+-+-+-+-+
Readings Sunday next before Advent-Christ the King
Collect for the Sunday next before Advent– Christ the King
God the Father, help us to hear the call of Christ the King
and to follow in his service, whose kingdom has no end;
for he reigns with you and the Holy Spirit, one God, one glory. Amen.
Psalm 95: 1-7
O come, let us sing to the Lord; let us heartily rejoice in the rock of our salvation. Let us come into his presence with thanksgiving and be glad in him with psalms. For the Lord is a great God and a great king above all gods. In his hand are the depths of the earth and the heights of the mountains are his also. The sea is his, for he made it, and his hands have moulded the dry land. Come, let us worship and bow down and kneel before the Lord our Maker. For he is our God; we are the people of his pasture and the sheep of his hand.
Old Testament Reading
Ezekiel 34: 11-16,20-24
Thus says the Lord GOD: I myself will search for my sheep, and will seek them out. As shepherds seek out their flocks when they are among their scattered sheep, so I will seek out my sheep. I will rescue them from all the places to which they have been scattered on a day of clouds and thick darkness. I will bring them out from the peoples and gather them from the countries, and will bring them into their own land; and I will feed them on the mountains of Israel, by the watercourses, and in all the inhabited parts of the land. I will feed them with good pasture, and the mountain heights of Israel shall be their pasture; there they shall lie down in good grazing land, and they shall feed on rich pasture on the mountains of Israel. I myself will be the shepherd of my sheep, and I will make them lie down, says the Lord GOD. I will seek the lost, and I will bring back the strayed, and I will bind up the injured, and I will strengthen the weak, but the fat and the strong I will destroy. I will feed them with justice. Therefore, thus says the Lord GOD to them: I myself will judge between the fat sheep and the lean sheep. Because you pushed with flank and shoulder, and butted at all the weak animals with your horns until you scattered them far and wide, I will save my flock, and they shall no longer be ravaged; and I will judge between sheep and sheep. I will set up over them one shepherd, my servant David, and he shall feed them: he shall feed them and be their shepherd. And I, the LORD, will be their God, and my servant David shall be prince among them; I, the LORD, have spoken.
New Testament Reading:
Ephesians1: 15-end
I have heard of your faith in the Lord Jesus and your love towards all the saints, and for this reason I do not cease to give thanks for you as I remember you in my prayers. I pray that the God of our Lord Jesus Christ, the Father of glory, may give you a spirit of wisdom and revelation as you come to know him, so that, with the eyes of your heart enlightened, you may know what is the hope to which he has called you, what are the riches of his glorious inheritance among the saints, and what is the immeasurable greatness of his power for us who believe, according to the working of his great power. God put this power to work in Christ when he raised him from the dead and seated him at his right hand in the heavenly places, far above all rule and authority and power and dominion, and above every name that is named, not only in this age but also in the age to come. And he has put all things under his feet and has made him the head over all things for the church, which is his body, the fullness of him who fills all in all.
This is the Word of the Lord.
Thanks be to God
Gospel Reading according to Matthew 25: v 31-end
Glory to you O Lord
'When the Son of Man comes in his glory, and all the angels with him, then he will sit on the throne of his glory. All the nations will be gathered before him, and he will separate people one from another as a shepherd separates the sheep from the goats, and he will put the sheep at his right hand and the goats at the left. Then the king will say to those at his right hand, "Come, you that are blessed by my Father, inherit the kingdom prepared for you from the foundation of the world; for I was hungry and you gave me food, I was thirsty and you gave me something to drink, I was a stranger and you welcomed me, I was naked and you gave me clothing, I was sick and you took care of me, I was in prison and you visited me." Then the righteous will answer him, "Lord, when was it that we saw you hungry and gave you food, or thirsty and gave you something to drink? And when was it that we saw you a stranger and welcomed you, or naked and gave you clothing? And when was it that we saw you sick or in prison and visited you?" And the king will answer them, "Truly I tell you, just as you did it to one of the least of these who are members of my family, you did it to me." Then he will say to those at his left hand, "You that are accursed, depart from me into the eternal fire prepared for the devil and his angels; for I was hungry and you gave me no food, I was thirsty and you gave me nothing to drink, I was a stranger and you did not welcome me, naked and you did not give me clothing, sick and in prison and you did not visit me." Then they also will answer, "Lord, when was it that we saw you hungry or thirsty or a stranger or naked or sick or in prison, and did not take care of you?" Then he will answer them, "Truly I tell you, just as you did not do it to one of the least of these, you did not do it to me." And these will go away into eternal punishment, but the righteous into eternal life.'
This is the Gospel of our Lord,
Praise to you O Christ
A Prayer for Ukraine
God of peace and justice,
we pray for the people of Ukraine today.
We pray for peace and the laying down of weapons.
We pray for those who fear for tomorrow,
that your Spirit of comfort would draw near to them.
We pray for those with power over war or peace,
for wisdom, discernment and compassion to guide their decisions.
Above all, we pray for all your precious children, at risk and in fear,
that you would hold and protect them.
We pray in the name of Jesus, the Prince of Peace.
Amen.
St Cubertus by Sue Parkington
Written about her favourite church.
Photo taken from happier times when the church was open
"Tis closed", the old man said,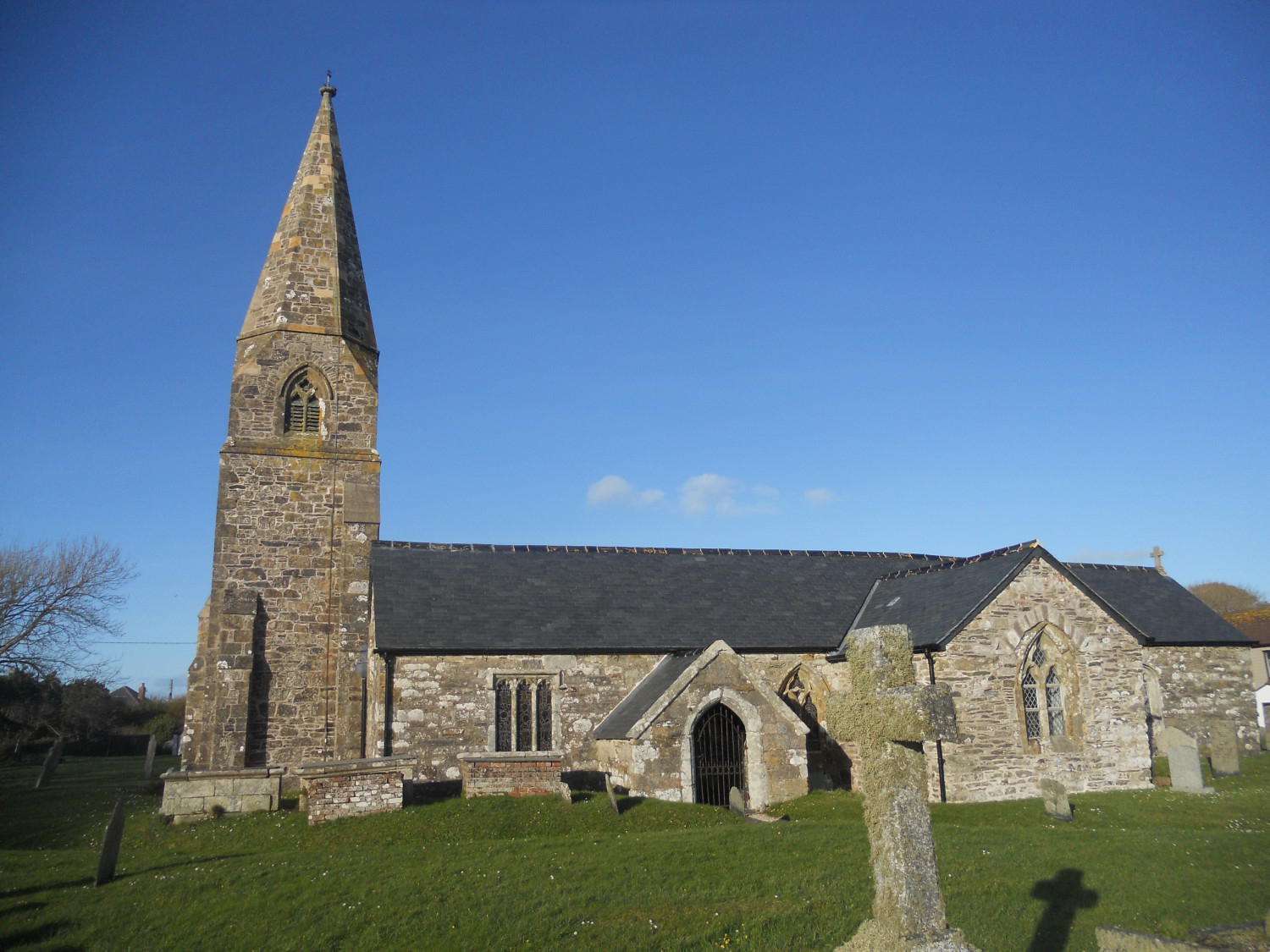 "Locked and cold within",
'Why's that?'I asked
'I can't make sense of thee'.
"Tis the virus; and the Bishops,
So they say,
They'm scared we might get sick.
I'm only ninety three"
'Let's chat outside a while' I said,
Though raining heavily.
"No good", he said, then added,
"Just come along with me,
'Tis cosy in the south porch,
And sheltered from the breeze".
And so we shared our crib there,
Saffron bun and mug of tea.
Keeping social distancing!
A friend and company.
Precious Life (An Acrostic for Easter Time 2020) by Liz Cleves
Perhaps we are listening, and
Remembering what is dear to us
Each of us recollecting Spring times, and the promise of nature bringing its gifts
Conscious too that the beautiful Earth is suffering from our 'overload'.
In the morning I listen to the robin and the wren guarding my garden, and
Out early I see the mighty sun lift over the horizon
Unfettered and free in it's course.
Softly I give thanks for all in my care and all that I receive.
Let me give thanks
In every way let me treasure my life and all that is dear to me
Fearing only fear itself and
Enjoying all while I may.